It's important to emphasize that an attractive visual design makes a significant contribution to a successful PowerPoint presentation in addition to solid content. In actuality, it aids in maintaining audience interest from the outset, improving your presentation. We must invest a lot more time in its design if we want to produce a presentation that seems professional. A beautiful pre-made template could make it easier for you to finish your work quickly. 
Therefore, to save time and effort, you can look online for free PowerPoint templates. Don't worry; if the sheer number of templates available overwhelms you, this article is the one for you.
It's worthwhile to take a look at this list of the top 10 websites to download free PowerPoint templates. You may easily locate wonderful PowerPoint templates from this page and download them for nothing to make your outstanding presentations. Let's have a look.
Powerpointify is a fantastic resource for high-quality PowerPoint templates available for free download that was made by renowned designers from across the world. The first time you visit this website, you'll be struck by its polished design. In other words, it offers an incredibly large selection of free PowerPoint templates to make your presentations look stunning. 
Through a search box at the top of the page, you may easily look for templates by topics. These templates can satisfy the needs of various projects thanks to their many categories, like Business, Technology, Holiday, etc. 
An interactive slideshow is included in each template. Additionally, details on its color, design, layout, and features are provided. As a result, before downloading the template, you can have a better understanding of it. You can view user ratings for a template, which is another interesting feature. 
Pros
The user interface is easy and intuitive to use.
There are many different and attractive free templates. 
No registration is required to get it for free. 
PowerPoint allows for complete editing of every element in templates. 
Cons
Only ZIP file formats are supported for downloading templates, thus you must extract the files before using them.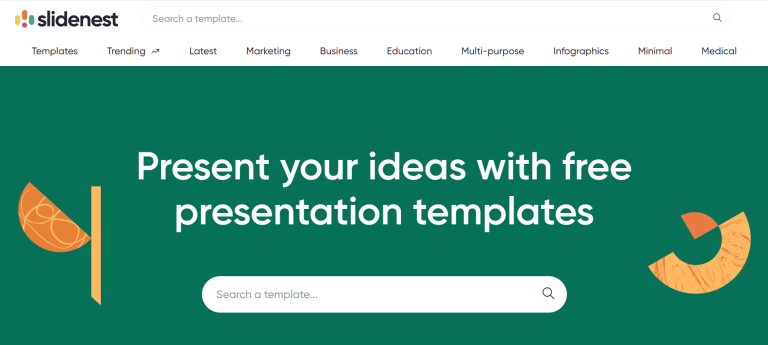 Slidesgo is one of the best suppliers of free PowerPoint templates. Many original, attractive, and colorful templates are available for free download on this website. Their charming designs might make it easier for you to grab the attention of your audience right away. Templates are divided up into distinct categories including education, business, marketing, and medicine, among others. 
From here, you can rapidly look into a subject of interest.  You can choose from the Premium package on the website in addition to the free download option. You have complete access to all of the Premium templates' limitless resources with this membership level. 
Pros
It offers free downloads of hundreds of impressive and top-notch PowerPoint templates.
You are free to look for templates using tags, colors, or categories.
You can preview slides before downloading them via an interactive slideshow.
You can find useful lessons on how to modify templates to suit your needs on each download page.
Without making an account, templates can also be downloaded immediately. 
Cons
Each template that may be downloaded for free must have attribution.
You must sign up on Slidesgo if you want to obtain 10 free templates each month as a Free user. 
Professional PowerPoint template designs may be found in abundance on Slides Carnival. You can drastically speed up your design process by just downloading a set of PowerPoint slides. The Slides Carnival offers a variety of free templates that may be used for any purpose. No registration is required, and downloads are not restricted. 
For tasks with a limited budget, it truly works best. Pay attention to the fact that they are covered by the provider's Creative Commons Attribution license and are therefore free resources. On the other hand, you typically have complete freedom. You can, for instance, alter the fonts, colors, and layouts, as well as add or remove slides.
The website's attractiveness is a result of its attractive interface. In other words, it categorizes a variety of topics for new ventures, enterprises, or artistic endeavors. Additionally, you may use the search box in the top-right corner of the page to filter or browse the most recent templates. About 35 to 40 slides with free attached icons and stickers make up each template. All of them can be changed to whatever you like.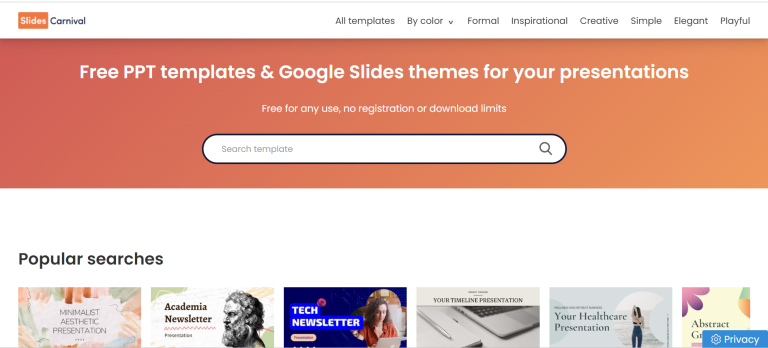 If AllPPT.com is not mentioned on the list, it would be an omission. Let's suppose it is an internet repository for everything PowerPoint-related. You may browse and download a superb selection of free PowerPoint templates from this website. Additionally, you can incorporate photo visuals, graphs, and charts in your next presentations. 
In general, AllPPT.com makes it fast to view templates by categorizing them. These include things like education, health care, finances, food, travel, and a lot more. Searching for templates using keywords or categories may make your task go more quickly. 
Pros
You can download free royalty background designs, PowerPoint diagrams, and graphics in addition to free PowerPoint templates.
For ease of use, templates are available as.pptx files for download.
Free templates supported by this website work with Microsoft PowerPoint 2007, 2010, and 2013. 
Cons
Ads may divert your attention.
The Download button is not very obvious.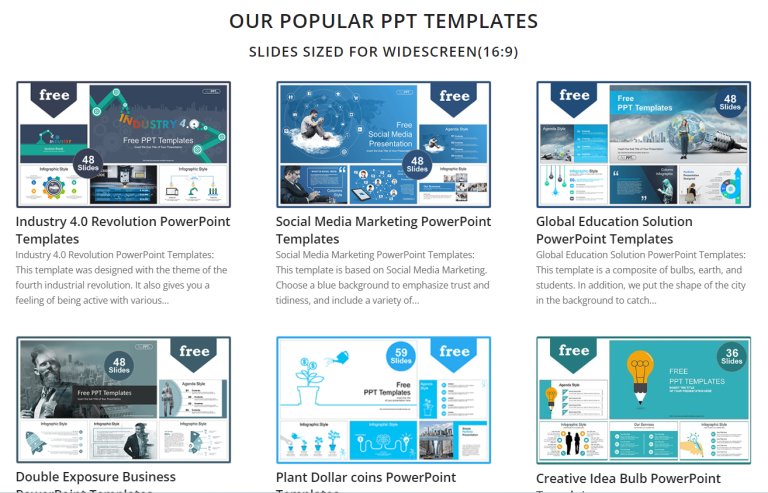 Another excellent website where you can acquire top-notch PowerPoint templates for nothing is Showeet. Your corporate or educational presentations will be made more lively with eye-catching graphics. The templates on this page can be easily filtered by categories and keywords even if they are not organized into groups. Simply select one of the common keywords on the left side of the page to see all the associated templates for your selection. 
Each download page also includes a preview of the slides as well as extensive usage advice. You might be able to determine whether that template is practical or fulfills your demands by having a quick look at this information. Aside from that, please carefully read the Terms of Use before downloading any templates. This enables you to confirm its complete freedom and steer clear of any limitations. 
Pros
Templates for resumes and curriculum vitae are provided.
Periodically, templates are updated and uploaded.
After clicking the Download button, you can directly download free templates without having to register. 
Cons
Decompressing the downloaded ZIP file for use could take some time.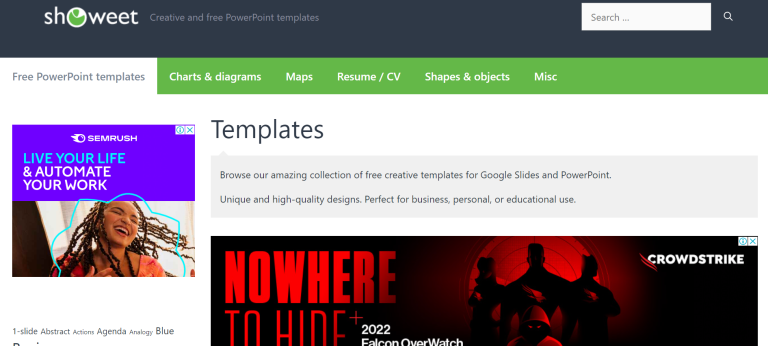 Slide Hunter offers you dozens of interesting free PowerPoint templates while being an online free resource. You may improve your presentations by using these templates.  
The homepage of this website displays the several categories into which the templates are divided. Through sections like Business, Planning, Education, Charts, and much more, it's simple for you to select your favorite designs. 
Additionally, using the search box or hot keywords at the top of the page to browse templates is helpful. Some themes are perfect for creating outstanding corporate presentations since they have lovely diagrams and images. Additionally, astonish your audience right away with unusual shapes and 3D objects.
Pros
The majority of templates offer stylish, original designs.
Each template is described in great detail.
The.pptx-formatted templates that you get can be used right away for your presentations. 
Cons
Some templates have a brief preview of the slides.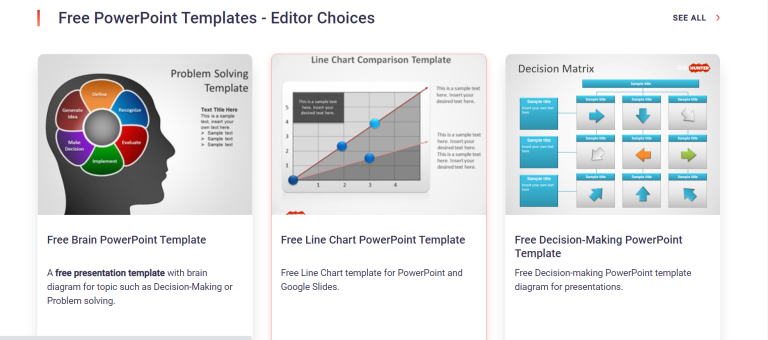 This is another noteworthy contender in the field. Since 24Slides gives you access to a vast selection of free PowerPoint template options. They appear to be grouped by categories at first glance, much like other websites. They include the areas of agenda, process, marketing, and data. An explanation in detail and a slide preview are available by clicking on a template thumbnail. This then helps you understand how to use the template. Consequently, you might reduce your options.
Pros
The design of templates is expertly and properly done.
The.pptx-formatted templates that you get can also be used right away. 
Cons
To download, you must first create an account.
Compared to other websites, it has a smaller selection of categories.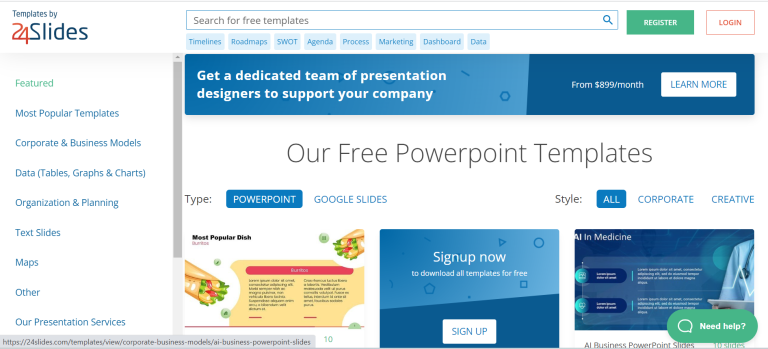 Another great resource for free PowerPoint templates is Presentation Magazine. You can choose from more than 50,000 free, original templates offered by it. The simplicity of this website immediately grabs your attention. Through a selection of categories, such as Animals, Calendar, Nature, etc., you may quickly choose the template theme you require.
Additionally, you have access to browsing templates based on their popularity, colors, or categories. Following that, you can download your favorites for free by just clicking the Download button. 
Pros
The website provides free downloads of both static and animated PowerPoint templates. 
Templates are regularly updated.
Cons
It's challenging to improve the user interface. To access the categories, you must scroll down to the bottom of the page where they are listed.  
The slide preview of the template is constrained. 
The majority of templates have simple designs and have fewer than 10 slides per template. 
Fppt.com is the site for you if you're seeking a place to download free eye-catching PowerPoint templates. You can download more than 2,000 beautiful free templates from this website. 
Like the other websites on the list, fppt.com categorizes and tags its templates according to numerous topics, such as Games, Maps, Nature, and so forth. You can choose PowerPoint categories in alphabetical order for your convenience. That will enable you to focus your search. You can also choose to filter templates based on their backgrounds, themes, or keywords. 
Pros
A download count is shown on each download page so you can see how popular it is among other people.
There's no need to register.
Cons
In comparison to the other websites on the list, its categories aren't as extensive.
The slide preview option is absent. 
Before downloading, you have to watch an advertisement.
The ZIP file needs to be extracted when a template has been downloaded.
Each template only contains a certain number of slides.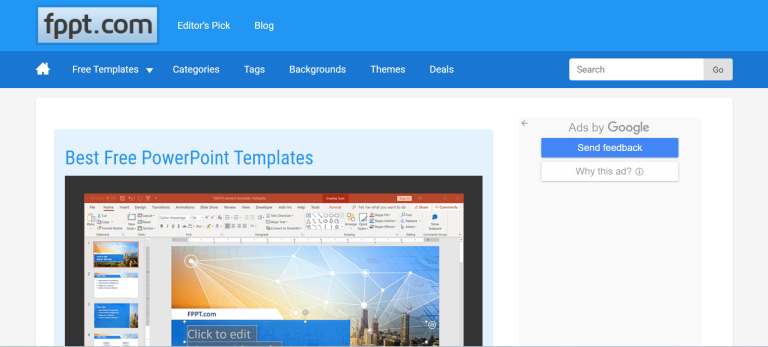 Last but not least, Powered Template is a website that is worth visiting if you want to acquire free business PowerPoint templates. The website offers free templates for MS Word, CVs, images, and more instead of PowerPoint presentations. On the left side of the website, you may quickly browse templates by types, categories, characteristics, ratios, and the number of slides. 
To filter your search, simply check any checkbox next to each option. Users' ratings and the number of downloads are displayed in each template thumbnail so you can make an informed decision before downloading. 
Try out the Premium subscription plan if you want to explore more amazing themes that this website offers. Gaining complete access, daily updates, and prompt help from the founders is attainable for $19 per month. 
Pros
The design of templates incorporates artistic and captivating aspects.
There are many different categories of PowerPoint templates to select from.
Cons
The number of template slide previews is limited.
For free downloads, you must first register. 
Before using the downloaded ZIP file, it must first be decompressed.
Free templates must be used with proper credit.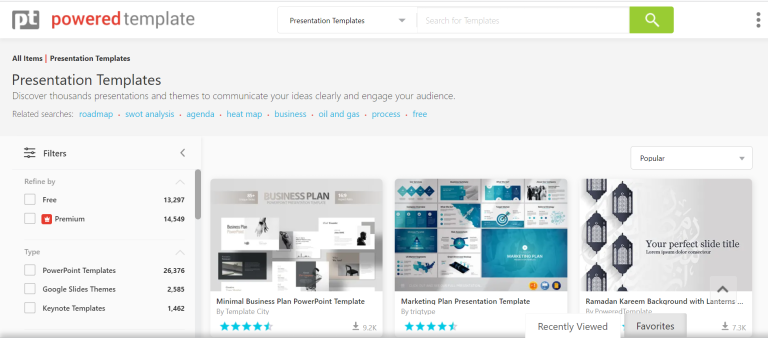 Conclusion
In conclusion, many great websites offer free PowerPoint templates to help enhance your presentations. Whether you're creating a professional presentation for work or a fun slideshow for a personal project, these websites provide a variety of designs to choose from. From sleek and modern to colorful and creative, these 10 fantastic websites have something for everyone. With easy-to-use templates that can be customized to fit your needs, you can create impressive and engaging presentations without breaking the bank. So, go ahead and explore these websites to find the perfect PowerPoint template for your next project.