Facebook began as a social media platform where users could add friends, post photographs and videos, and communicate with family and friends. But over time, Facebook has evolved from a social media platform for linking people to a network for businesses. People used to interact with pals and converse in the past. People now interact with users to turn them into prospective customers.
Facebook is the ideal platform for the growth of businesses, marketing, and advertising, regardless of your size or type of business—start-up, freelancer, small or large.
Over time, Facebook Advertising has developed, and now users may pay to have their advertising emphasized and seen by more people. Facebook is the top platform for businesses to advertise their name, goods, and services, expand into new markets, increase website traffic, amass a sizable clientele, and generate big profits.
The typical Facebook user will click on 12–15 ads each month in 2022. More than 80% of American shoppers have looked into Facebook before making a purchase.
2023 Facebook Advertising Trends
However, our team has identified new Facebook trends that will emerge in 2023 and has offered suggestions for incorporating these trends into your company's Facebook advertising strategy. Please allow us to walk you through the 2023 Facebook Advertising Trends.
1. Short Videos
Facebook is the top platform for short video content after TikTok. Facebook users watched a lot of short videos in 2022. With Vines, which shattered the Internet and has witnessed immense & tremendous growth over the years, short video material first gained attention on TikTok.
In the coming years, the popularity of short content videos will only increase. They are currently popular on Facebook, and Instagram as reels, and on YouTube as shorts.
Users are drawn in and encouraged to watch additional short videos because they are succinct and provide direct messaging through captions in the image.
We advise emphasizing short content videos in your Facebook advertising strategy in 2023. Your website will receive a tonne of traffic, gain access to new client segments, and experience a significant revenue increase. To keep viewers interested, make sure the brief movies are clear, concise, and exact.
2. Video advertisements will continue to rule
In the past, Facebook posts with photographs attracted more attention from users, but with time, video material has become more popular. Video content is more intriguing & engaging for users. The popularity of social media video advertising has skyrocketed as a result.
Over the years, video advertising has become increasingly common. Massive users decided to use paid advertisements in 2022 to improve their movies and posts and gain a large audience.
Facebook Video Ads are becoming more popular because they give businesses the chance to tell in-depth tales about their brands and showcase their goods & services through captivating video content.
Brands have benefited from using Facebook Paid Video Ads to create top-notch video content and display it in the news feed of the intended audience.
We advise concentrating on Facebook Video Paid Ads in 2023 to increase your consumer base by connecting with the intended audience and breaking into new market niches.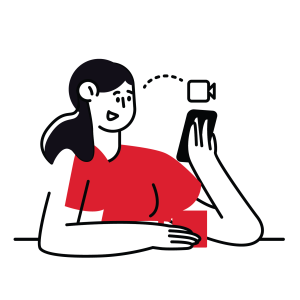 3. Shoppable advertisements will increase in scale
Facebook's social purchasing platform has been improved and honed over time to provide outstanding social selling options. It has improved the buying and selling experience on Facebook for both customers and sellers.
Facebook shoppable advertising is displayed through the Facebook and Instagram applications to increase traffic to both, connect brands with their respective audiences, and reach a wider market.
Facebook introduced Advantage+ Shopping Ads in August 2022, giving businesses the ability to automate, optimize, and improve a variety of campaigns while also bringing in fresh clients.
In order to automate your Facebook campaign and increase traffic to your website in 2023, we advise concentrating on Facebook Advantage+ Shopping Ads. We advise creating effective Facebook shoppable advertisements for E-Commerce and B2C retail enterprises. You can get in touch with Creative Nexus for Facebook Marketing & Advertising Services & Strategy for your company since we offer the best Facebook Advertising solutions.
4. Facebook Live
Before the pandemic in 2020, Facebook Live wasn't that popular. However, Facebook Live quickly became the new Internet talking point when the pandemic struck in 2020. It was a recent online phenomenon.
Over time, Facebook Live evolved into a platform for companies and major brands to introduce new goods and services, show off products, and rapidly respond to customer inquiries. It served as a forum for influencers and content producers to communicate with their subscribers and followers, promote various companies, and establish trusting long-lasting business ties.
Anyone can utilize Facebook Live, and a verified badge is not required. Facebook Live allows users to communicate with their friends. For the past two years, Facebook Live engagement has outperformed the post engagement average by more than 150%.
Facebook users spend more time on Live than on pre-recorded videos, according to the Facebook algorithm.
We advise start-ups, and small- and medium-sized enterprises in 2023 to concentrate on using Facebook Live as their marketing channel in order to reach a larger audience, sell their goods and services, and engage with people by responding to their questions and concerns.
Additionally, Facebook Live displays first in the News Feed and notifies your followers when you go live, attracting additional viewers to your Facebook Live.
5. Facebook Stories
Snapchat, sharing and uploading stories gained popularity. However, over time, users have abandoned Facebook, Instagram, and WhatsApp stories, and now more people submit and share stories on these three networks than on Snapchat.
More than 1 billion Facebook stories will be created and shared every day in 2022.
 Every time a Facebook page publishes content (such as memes, music, news, information, travel, products, or services), Facebook users share it on their stories, increasing the post's visibility & reach. Marketers thought about and used this tactic.
Businesses in 2022 gained extensive visibility & reach through Facebook stories as consumers tagged the company while sharing their posts on their story, which allowed businesses to expand their market segments & reach new target audiences.
Mark Zuckerberg, the founder of Facebook, listed five reasons why using Facebook stories will be a wise decision going forward.
First of all, consumers have begun to think of tales as their new News Feed. Second, it offers users a fresh platform to share commonplace occurrences. Thirdly, the stories are communicated in real-time and can be quickly shared to reach a large audience. Fourth, Facebook stories have great support for smartphone compatibility, making them user-friendly and providing consumers with a quick, seamless experience. Finally, Facebook stories offer a privacy setting that lets you choose whether to share the stories with everyone or just a select group of your loved ones.
Facebook stories will be extremely important in 2023 for expanding brand awareness, advertising goods and services, providing new information, and increasing business profits. To achieve beneficial & profitable results, we advise concentrating on Facebook stories.
6. Chatbots
When chatbots first appeared on websites, they caused quite a stir. Facebook, however, took things a step further and added chatbots for Facebook Business Pages. Users can communicate with the company on Facebook outside of regular business hours.
More than 100,000 chatbots are currently in use on Facebook Messenger as of 2022. Businesses have begun implementing the Facebook Messenger chatbot to give customers another way to remain in touch with them on the Facebook platform.
By automating customer interactions, Facebook Business Users can increase revenue by using chatbots to respond to straightforward and often requested questions and difficulties.
In order to properly employ chatbots, we suggest that you do three things.
Make sure that the chatbot for clients feels personalized and humanized; avoid giving them impersonal, robotic responses.
Make sure to keep the chatbot as straightforward as you can and respond to clients' questions and problems directly and precisely.
To provide clients with a flawless chatbot experience, be ready for potential technical difficulties with chatbots and quickly fix them.
In order to stay in touch with your clients after regular business hours and provide them a sense of connectivity with technology at home and at work, we advise you to add a chatbot to Facebook Business Messenger in 2023.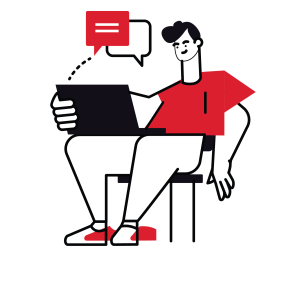 7. Tracking the customer journey
A crucial step that many firms overlook is journey mapping. In order to improve consumer buying and service experiences with your organization, it helps companies better understand their customers' wants, demands, buying habits, decision-making, and more.
Knowing which advertisement a customer clicked on last before making a purchase is crucial information for marketers to understand the customer journey.
A new feature that Facebook has released enables businesses and enterprises to follow their customers' online activity. The tool aids in comprehending and viewing key touchpoints, including advertisements, landing sites, postings, reviews, and other elements that influence consumer decisions. The whole customer journey will be clearly depicted for marketers to evaluate the worth of each sales channel.
We advise deploying the Facebook Tool for tracking customer journeys in 2023 to find any gaps and close them to provide customers with a flawless experience, leading to potential purchases and customer happiness experiences.
8. Customising the Page
One of the key components for providing customers with a wonderful customized experience on your site and maximizing your social media reach is page customization. Facebook has a customization feature that lets you alter various page elements and include third-party applications on your page. Marketers are using this fantastic and profitable feature to make direct sales of goods and services on Facebook.
Facebook gives you a variety of options for page customization. The best designs that support your business theme can be chosen, and you can select a backdrop color that harmonizes perfectly with your company's and brand's logo. You can switch between templates according to your business category. The tabs can be altered to fit your page best by being added, moved around, or removed.
Use the Facebook Page Customization feature in 2023 to make your page stand out and appear alluring and captivating in order to entice consumers to visit it.
9. Increased investment in Facebook Paid Ads
As many companies used Facebook Paid Ads to promote their posts, articles, reels, and videos on Facebook in 2022, they were a huge success. Businesses have benefited from using Facebook Paid Ads to expand the audience for their goods and services. Users who are interested in viewing similar ads are shown Facebook Paid Ads in their News Feeds.
Businesses, brands, enterprises, and content marketers greatly increased their investments in social media marketing services in 2022. In paid Facebook ads, more than 90% of social media advertisers invested. Visibility and reach of Facebook Paid Ads are more than 80% effective. More than 125 billion USD in ad income is generated by social media paid to advertise. These figures will top 150 billion dollars in 2023 and 250 billion dollars in 2028.
Facebook Paid Ads are not just for promoting your videos and posts. It is more important to produce content that compels visitors to your website. Potential clients who are already interested in your product and service offerings are sent ads using the Facebook remarketing tool. You can advertise your paid advertisements by using feature reviews of a specific good or service.
Profit from the biggest advertising fad of 2023: Facebook Paid Advertising. It will enable you to communicate with a larger audience, increase brand recognition, and leave people with a positive impression of your company.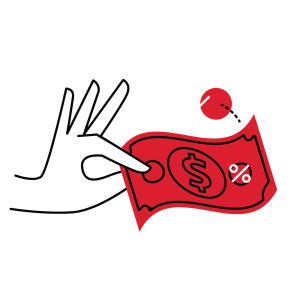 10. The voice of the brand
One of the essential marketing elements that any company and brand must have in their digital marketing strategy is brand voice. It is a fantastic tool for developing and fostering your brand voice.
There are several occasions when a company can show off its brand voice, including when they update its website, introduce a new product, offer, or advertisement, publish a post, a narrative, or a video on social media, and more.
Facebook made a significant contribution in 2022 by elevating posted content to the top of users' Facebook News Feeds, thereby assisting brands with their brand voice strategies. The content generation strategy is the main component of the brand voice strategy. To captivate users, it is essential to offer interesting and intriguing content.
In order to engage with a large audience in 2023, we advise including your company's values, mission, and vision in your content strategy. Make sure it remains the same across all sales channels.
The Top Facebook and Social Media Management Tools
Out of the more than 100 options on the market, we've chosen the most important social media management tools based on how well they'll serve you.
1. HubSpot Marketing
One of the top social media management platforms is HubSpot Marketing. It offers remarkable core features like marketing automation, social media monitoring, omnichannel lead management, analytics, increasing website traffic, sales conversion, managing designs, polishing website content, blogs, & landing pages, and managing social media platforms ads. It also offers a variety of additional capabilities that aren't listed here.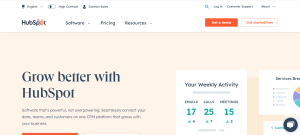 2. Monday.com
A platform that uses the cloud is Monday.com. In addition to managing social media campaigns across various social media platforms, it enables social media teams to construct their own applications and project management tools. It includes amazing capabilities like task automation, workflow simplification, and more.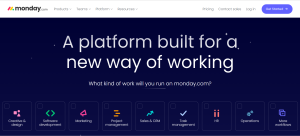 3. Zoho Social
One of the best tools for managing social media is Zoho Social. It supports lead creation from Facebook, consumer interaction, and keyword monitoring. By allowing for mass scheduling and automatic creation, it also aids in content creation and publication. Visit the Zoho Social website to learn more about its features.
4. Facebook Pages Manager
Facebook has an internal tool called Facebook Pages Manager that can be used on mobile devices to manage Facebook pages. It has functions like post-scheduling, post-translation, post-boost, event creation, and more.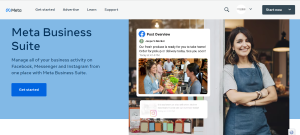 5. HootSuite
One of the top 10 social media management platforms is Hootsuite. It provides a social media manager, calendar, analytics tool, omnichannel features, and more all in one. You may control numerous social media profiles, including those on Twitter, Instagram, and Facebook.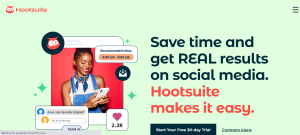 Conclusion
You will be familiar with the Facebook Trends for 2023 after reading the blog. We also included a list of the top social media management tools. For each Facebook trend, we have included tips on how to use and deal with it. Creative Nexus is available if you require more direction or help with the creation of a content and social media plan. Feel free to contact us for content development strategy, social media marketing strategy, or paid advertisements.