You need to be aware of the proper ad sizes and requirements if you are considering running ads on Instagram. Your Instagram ad space is competitive, so you want your ad to stand out from the crowd—but for the correct reasons, not just because it's hideous. However, there are numerous distinct Instagram ad types, and each one has a unique set of suggested sizes.
We've compiled a list of the various Instagram ad formats along with their appropriate sizes. By doing this, you can be sure that your advertising will always be appropriate for its intended audience and unlikely to be disapproved by Instagram for procedural issues.
Instagram Is a Member of the Facebook App Family
Facebook purchased Instagram in 2012 for $1 billion. Since then, Instagram has contributed significantly to Facebook's expansion. Given that Instagram only had 13 employees at the time, some people thought the $1 billion amount was absurdly high. However, given that some experts now estimate Instagram to be worth more than $1.6 billion, Facebook likely now views it as a good deal. 
Facebook took some time to incorporate Instagram into its internal systems. But today, both apps—along with other Facebook apps like WhatsApp—have a lot in common.
In particular, a single advertising network is shared by Facebook and Instagram. As a result, you can select both the Instagram main page and Instagram Stories when asked where you would like your ads to appear when you establish ads for the network.
Although creating ads on Facebook and Instagram can be challenging, there are just six necessary steps:
Choose your audience.
Pick a location for your advertisement.
Set a budget.
Choose a format.
Place your order
Track and manage ads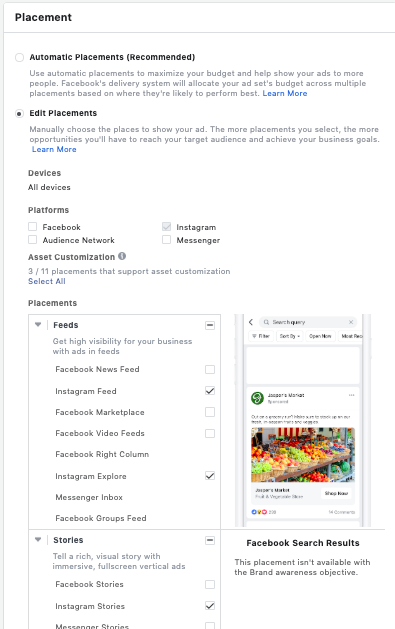 A crucial step is step four. You might have a clear vision of how an ad will look before you even start creating it. If not, you must decide how precisely you want your ads to appear. But one thing is obvious. Regardless of the ad sizes and formats you choose, you'll want your ads to appear their best. You don't want to utilize images that have to be ruthlessly cropped or resized by Facebook or Instagram to fit within the space you have been given.
Although there are many different ad forms accessible on both Facebook and Instagram, not all Facebook ad formats are compatible with Instagram.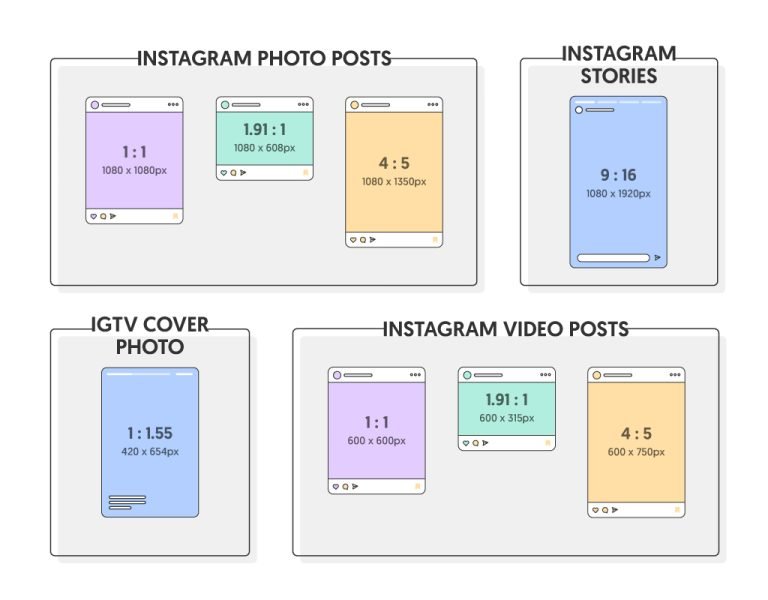 Instagram Single Image Ads
The mainstay of ads on Instagram is Instagram image ads. You don't have to fight with other users' status updates grabbing the spotlight because an Instagram single image fills the entire user's screen—at least until the user scrolls to the next post, that is.
Although Instagram initially only supported square images, you can now also create advertisements using both horizontal and vertical images.
You must decide which image format is most appropriate for your photo. Landscape images, as their name suggests, are wider than square or vertical images and can be the perfect choice for a horizontal image. Although square images are shorter than their landscape counterparts, they occupy more vertical space, which makes them perfect for many portraitures. Simply make sure that the square format doesn't drastically crop your images.
Evidently, portrait images look fantastic when displayed in vertical image format. They can occupy a substantial amount of space on a phone, giving your advertisement an almost full-screen appearance.
Additionally, Instagram Explore advertising can be purchased. These have the same picture requirements as Instagram advertising feeds. 
Specification
File type: .jpg or .png
Maximum file size: 30MB
Image size: Instagram recommends you upload the highest-resolution image available that meets ratio requirements (i.e., horizontal, square, or vertical). No minimum resolution
Minimum image width: 500 pixels
Minimum aspect ratio: 400×500
Maximum aspect ratio: 191×100
Aspect ratio tolerance: 0.01
Text Limit: Two lines of text will be displayed
Instagram Video Ads
Instagram users are increasingly using video ads as internet connections and phone capacity increase. You can make a landscape, square, or vertical movie, just like with still images. Again, it's a good idea to select the format that corresponds most closely to the theme of your video. Although vertical videos may not be very known to you, they are growing in popularity as more and more people use their phones to see Instagram videos. They serve as IGTV's default format on Instagram.
You can also buy ads to go on Instagram Explore. The video specifications for these are the same as those for Instagram feed ads.
Specification
Video format: .mp4 or .mov – recommended, satisfied
Recommended resolution: Upload the highest resolution video that meets the file size and sample
Source ratio: 1.91:1 to 4:5 (horizontal 16:9, square 1:1, vertical 4:5)
Minimum video dimension: 500 pixels
Maximum video file size: 30MB
Video Captions: optional
Video Ratio: 400×500, max. 191×100
Video Duration: 1 to 120 seconds
Text limit: Two rows of text can fit inside the allowed space.
Video thumbnail images that consist of more than 20% text may experience reduced delivery
Instagram Carousel Ads
You can include up to ten photos or videos in carousel ads. These might be especially helpful if you're trying to promote many products or if you want to include images of your product taken from various perspectives. A connection might be unique to each card. 
A succession of tiny dots under the viewable image is the best method to identify a carousel ad. This implies that there are more images that you can see.
Specification
Number of cards: 2 (minimum) to 10 (maximum)
File type: jpg or png (photo) or .mp4 or .mov (video – recommended, more)
Maximum video file size: 4GB
Video Duration: 60 seconds maximum
Recommended image resolution: at least 1080 x 1080
Carousel Ratio: 1:1 
Text limit: Two rows of text can fit inside the allowed space.
Headline: One row of text will display
Deliveries of images with more than 20% text may be slowed down.
Instagram Stories Carousel Ads
In Stories, Instagram now offers users two types of carousel ads. Native Stories Carousel is only available as a standalone Instagram Stories location and automatically shows up to 3 cards with full-screen creative. Expandable Stories Carousel automatically shows 1, 2, or 3 cards, but gives users the option to press "Keep Watching" to view the remaining cards, making a total of 10 cards available.
Specification: Native Stories Carousel
Minimum number of cards: 2
Maximum number of cards: 3
Ratio: 9:16
Recommended resolution: 1080×1920
The maximum time for carousel videos is 15 seconds.
Specification: Expandable Stories Carousel
Maximum number of cards: 10
Ratio: same as the news feed
There may be delivery issues with images that include more text than 20%.
Maximum video duration in seconds for prompted carousel videos: 60
Instagram Slideshow Ads
A Slideshow Ad can be made using a collection of images and/or videos with a musical accompaniment overlay. Make sure you have all the legal rights necessary to utilize music in your advertisement if you do so, either by purchasing the song's rights outright or by licensing it. To create a looping video, you can use up to 10 photos.
Specification
Image file types: jpg or png; music file types: wav, mp3, m4a, flac, and ogc
Minimum Image Width: 600 x 600 pixels, max. Any non-square photos or videos you use will be cropped to fit the 1080 × 1080 format.
Text limit: Two rows of text can fit inside the allowed space.
Image Duration: up to 50 seconds/image
Instagram Stories Image Ads
It was just a matter of time before Instagram Stories ads were allowed because the feature is quickly emerging as the platform's breakout star. The ability to use many of the same features as regular Instagram Stories, such as stickers, GIFS, and filters, is probably Instagram Stories advertisements' greatest perk. You also have the enormous advantage of your ad having a clickable swipe-up link.
Between Instagram user Stories, these display as full-screen vertical ads. When a user swipes out of a photo story, it disappears after five seconds. 
Instagram advises against putting text or logos at the top and bottom 14% (250 pixels) of the image to prevent hiding these crucial components with the profile emblem or call to action. 
Specification
Use: jpg, png
Maximum file size: 30MB
Recommend image size: 1080 x 1920 pixels
Images with more than 20% text will be less likely to run Instagram Stories Video Ads.
Instagram Stories Video Ads
All the advantages of Instagram Stories Image Ads are combined with the captivating elements of video ads in Instagram Stories Video Ads. Studies show that you can add sound to these ads because many customers watch them with the sound on. Instagram users' stories are interspersed with full-screen vertical ads, which viewers may choose to watch for up to 120 seconds.
Instagram suggests that you leave around 14% (250 pixels) of the top and bottom of the image free from text and logos in order to prevent hiding these crucial components with the profile icon or call to action, just like with image ads on Instagram Stories.
Specification
Use: mp4, mov
Maximum file size: 4 GB
Recommend image size: 1080 x 1920 pixels
Resolution: 720p
Source ration: 1.91:1 to 4:5 (horizontal 16:9, square 1:1, vertical 4:5)
Video length: 15 seconds