Instagram provides a big platform for businesses to engage with consumers, promote their products, and increase sales with its over 1 billion active monthly users. Instagram users are engaged as well as active
Instagram performs better than Facebook in terms of engagement per follower by 58 times.

60% of users log onto the platform every day.

At least one business is followed by 50% of Instagram users.

Instagram is where 60% of users first learned about a product.
Instagram advertising strategies may build an engaged audience, promote products, and raise brand exposure. Brands can use the platform's visual nature to their advantage by marketing their goods in a warm and natural manner.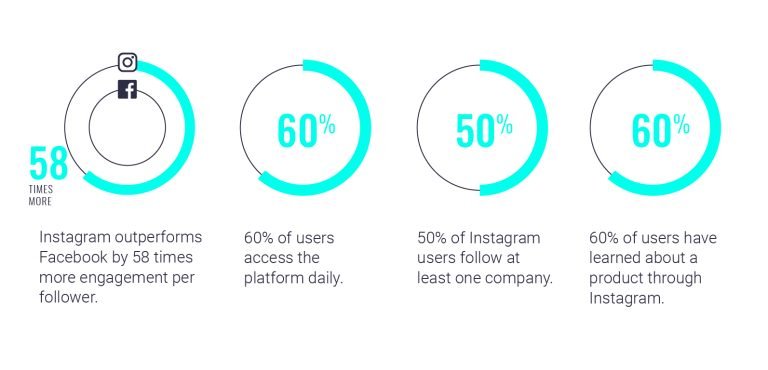 1. Identify the Purpose of Your Ad
For your Instagram Ad campaign, there are a number of pre-set targets to select from.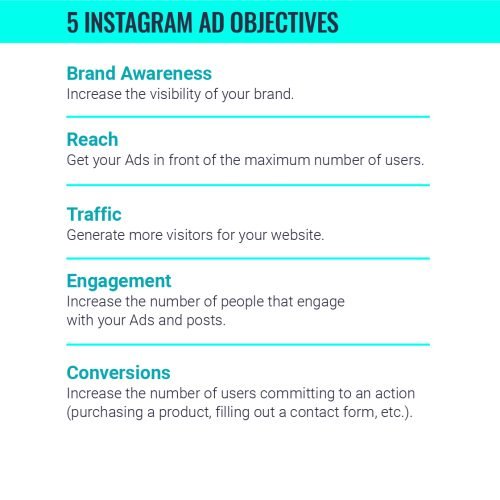 2. Pick The Right Ad Type
You can select from four distinct sorts of Instagram ads:
Instagram Stories Ads
Instagram Stories contain Story Ads, which display full-screen vertical content that fills the whole device screen. The feature is used by more than 400 million Instagram accounts, and story advertising provides companies access to that audience. 10,000 Instagram users were polled by Facebook IQ: Digital Research and Insights, and 39% of them said that viewing an Instagram Stories ad increased their interest in a company or product.
Instagram Feed Ads
The usual Instagram ad format. Users are shown Feed Ads, which are solitary images, as they naturally scroll through their news feeds. Instagram is a crucial marketing medium for reaching its audience with over 37% of Americans using the network, and 60% of Instagram users find new products on the site.
Instagram Carousel Ads
Carousels let visitors examine your products in greater detail, but Story and Feed Ads must quickly capture viewers' attention. Three panels make up a carousel ad, and each panel shows a film that can last up to 15 seconds. Each card has a link to a different landing page, and you can track its analytics. Real people are more engaging to Instagram users in photos and videos. Your click-through rate rises by 3–5% when you provide videos and photographs of real individuals wearing or using your products.
Instagram Collection Ads
Collection Ads allow consumers to browse a range of your products without having to navigate through to your website, unlike the other Ad forms that typically only show one product. Since Carousel Ads are more interactive than normal Feed Ads, they can provide impressive results, with some studies finding 10 times as many click-throughs. For the "cover" of carousel advertisements, video has been found to perform better than traditional visuals. Your arousal cover's video could increase user involvement by 20%.
3. Build The Right Audience
The typical targeting choices for Instagram Ads are based on demographics, geography, behavior, interests, etc. It is more probable that your campaign will be effective in achieving its aims and objectives if you can target the ads more precisely.
Specific Audiences
These users have already engaged with your business, gone to your website, or given you access to their personal data. Advertising to these groups has the benefit that the user has previously expressed interest in your goods. A database that you upload to the site is matched with Instagram users by Instagram. Then, you can utilize Instagram Ads to target these users.
Similar audiences
These groups are made up of users who are comparable to your current clients. Instagram can help you target users with ads by identifying individuals who have similar demographics and interests to your regular consumers.
Retargeting
You can reach out to "old" leads via retargeting to persuade them to convert. There's a chance that these users have already visited your website, placed anything to their cart, or clicked on an ad. Retargeting is the practice of reminding people with ads intended to encourage them to make a purchase after they've already interacted with your business.
4. Creative Nexus Expert Tips
Five of the best Instagram advertising campaign advice from the professionals at Creative Nexus.
Tip #1: Keep Ad Text Minimal
Instagram Ads need to have visuals. Because Instagram is so visually appealing, users are more active on the platform. Keep your word usage to a minimum and utilize attractive visuals to highlight your offerings.
Tip #2: Make Your Ads Appear Native
Making ads that resemble genuine content will increase engagement and get more clicks. Include actual individuals in your photographs instead of just generic product shots. According to studies, pictures with real people in them get 38% more likes than those without. Concentrate on artistic creation that reflects the natural platform experience.
Tip #3: Use Image Carousels to Tell a Story
To make carousel photos more interesting, weave a narrative into them. Create a visual storyboard that not only advertises your goods and business but also helps you connect with your audience. Use photographs that promote the experience of using your product and the emotions you want customers to associate with it rather than just providing images of the actual thing.
Tip #4: Use a CTA (Call-To-Action) Button
You have the choice to add a CTA button to the bottom right of the image when designing an Instagram Ad. Utilize this feature to persuade viewers to interact with your advertisement and do the desired action. For increasing engagement and click-through rates, Instagram provides a variety of CTA options to try.
Tip #5: Testing to Improve Performance
As with any marketing campaign, Instagram Ads benefit from tracking Ad performance and optimizing to increase effectiveness. By experimenting and comparing different images, Ad copy, colors, and CTAs, you may improve the performance of campaigns. Establish reasonable campaign goals and objectives, and keep testing and improving campaigns to reach those goals.
 5. Track KPIs
The correct metrics must be tracked in order to assess performance, maximize efficiency, and boost ROI.
Impressions
Impressions are the total number of times your advertisement is seen. Nevertheless, each time an Instagram user views your advertisement, it counts as an impression.
Reach
Reach displays the number of unique views from certain people, while impressions reflect the number of times your ad is viewed each time. One reach and four impressions, for instance, will be recorded if a user views your advertisement four times.
Rate per Clicks
Your advertisement's click-through rate is a gauge of how many people saw it. It is calculated by dividing the number of clicks by the number of impressions or impressions of your ad.
Leads
The amount of persons who express interest in your goods and services is measured by leads. It's up to your landing page to turn visitors who click on your website into customers because they've already expressed interest.
Cost Per Lead
Cost per lead is a measure of how effectively your marketing is bringing in fresh leads for your business. This statistic gives you a precise number to use to determine how much money you should spend on lead generation and advertising.
Return On Ad Spend (ROAS)
The return on advertising spend (ROAS) gauges the amount of money made from advertising. The success of your advertising activities can be evaluated using this metric. To calculate the total cost of an advertising campaign, divide the revenue it generates by the total cost.
Conclusion
Instagram advertising has developed and gotten a bigger percentage of marketing spend ever since it was incorporated with the Facebook ad network. Currently, the site hosts over monthly advertisers. Your brand is missing out on a huge chance and giving your rivals an advantage if it hasn't yet seized the opportunity or is failing to make an effect. 
It's not easy to create and refine Instagram Ad campaigns. PPC advertising effectiveness must be maximized through significant study, ongoing optimization, and vast experience. While outsourcing your Instagram PPC can help you avoid wasting money, it can also point you in the direction of untapped markets. Creative Nexus' Instagram PPC specialists can enhance your ad spend's return on investment and bring in new clients.