Launching a Shopify dropshipping store is a great approach for many business owners to get started in the ecommerce sector. Here's why: keeping your inventory might be time-consuming and expensive, but with the dropshipping business model, you'll never have to stock any of the items you sell. You'll have more time and resources to devote to expanding your online store and generating more revenue.
The majority of the leading ecommerce systems, including Shopify, enable dropshipping as a flexible approach to run your business. We prepared this comprehensive Shopify dropshipping guide because we think that ecommerce entrepreneurs should have an easier time starting their businesses.
When you're ready to start dropshipping, see detailed instructions on finding the best products to sell online and setting up your Shopify store. If you follow the steps carefully, you can have your Shopify Dropshipping store up and running in less than 50 minutes!
Dropshipping Definition
Dropshipping is a business strategy that allows online companies to sell products without inventory. When a consumer places an order, they simply contact the supplier and the product is delivered directly to the customer's door. You can expand your product portfolio by adding items from other vendors using dropshipping apps like DSers.
Dropshipping is the perfect business concept for aspiring e-commerce entrepreneurs. It's easy to set up and manage, and there's no high upfront cost. You don't have to quit your job to open a thriving store. You can manage your dropshipping business in your spare time. Additionally, there are many dropshipping strategies you can use to increase store traffic.
Shopify Description
The best ecommerce platform Shopify allows business owners to start their own online business.
Even if you lack technical knowledge, you can create your own store because of Shopify's ease of use. It is also suitable for business owners who want to start their own dropshipping operations. You can access a variety of marketing and dropshipping options on the Shopify platform.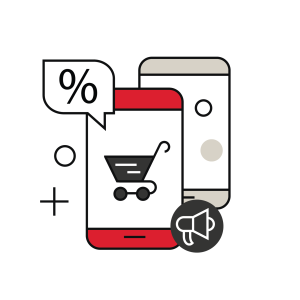 How to use Shopify?
Shopify essentially serves as the foundation for your online store. It is an ecommerce platform that provides business owners with the platform they need to start and develop their store and manage their business without paying for hosting through the backend. As long as you pay Shopify a reasonable monthly fee, your online store will run smoothly. Shopify takes care of maintaining your store while you focus on increasing your sales and growing your business. The same rules that apply to your standard Shopify business also apply to your Shopify dropshipping store. To find your product, simply download the DSers app.
Why is Shopify considering dropshipping?
For entrepreneurs wishing to launch their own business with low initial investment, dropshipping is the ideal business strategy, and Shopify is the most user-friendly platform for building and managing your store.
You won't ever have to worry about having too much inventory when you dropship on Shopify because you'll only order what you need to satisfy client demand. This technique differs from a normal e-commerce operation, which entails either producing things or buying them in bulk from a wholesaler.
Another reason Shopify dropshipping is so straightforward is that if you're using it with DSers, you'll be able to control your inventory with only a few clicks.
Is dropshipping on Shopify actually profitable?
In fact, Shopify Dropshipping can help retailers because they aren't responsible for manufacturing or shipping. With the right supplier, you can make good, consistent profits without spending as much money as a wholesaler.
Is dropshipping legal on Shopify?
Dropshipping using the Shopify store is legal. However, you should be careful when choosing your suppliers, as some of them may infringe the intellectual property rights of other companies.
As long as your supplier is an expert, you shouldn't run into legal issues with Dropshipping from Shopify.
7 Steps to Start Dropshipping on Shopify
This section of the Shopify Dropshipping Guide walks you through all the steps needed to build your own ecommerce site. By the time you're done, guiding you through each step and giving you the best advice, you'll have a fully functional Shopify Dropshipping store that you can use to start selling right away. Here's the process you'll need to follow to start a Shopify dropshipping store.
1. Select store name
Start here to launch your Shopify dropshipping store. Use these suggestions to name your online store.
Simple is best

Be innovative

Be unique
Shopify It's easy to think of an original name for a dropshipping business. Just enter the business name you want to include in Shopify's online business name generator and click Generate Name.
You can name your Shopify dropshipping store by choosing a name you like from a variety of brands. Not only will this save you a lot of time, it's completely free to use.
Shopify Dropshipping Store If you've remembered a few names for yours, you should check what you've already imported: If you already have a name like "American Clothing Store", if it already exists, it's probably already in use.
2. Sign up for Shopify
Creating a Shopify Dropshipping store account is quick and easy. First you need to go to the Shopify homepage and select "Start Free Trial".
On the next screen, enter your email address in the blank field. You will be prompted to create an account password and enter the name of your chosen Shopify dropshipping store.
Next Steps Ask a few questions about your ecommerce experience.
When you're done, your Shopify account is up and running. Next, you'll need to set up your Shopify Dropshipping account to get started.
3. Adjust your settings
This section of the Shopify dropshipping guide covers setting up your newly created Shopify account. This step is critical to getting your business ready to accept payments from customers, set store rules, and determine shipping rates.
Payment Information
The first thing you need to do is set up payment for your Shopify dropshipping store. This is an important step because you won't be able to accept payments from your customers unless you add a payment method.
You need to go to the Shopify settings page to add your payment information. Just add your payment details by selecting the "Payment" option on the left.
You will need to add your PayPal account here as recommended. If you don't have an account, you can easily create one in minutes, even if you don't have much technical knowledge. (You can read more about PayPal and other payment systems in our post.
Store Rules
Before opening a Shopify dropshipping store, you need to develop basic store rules. Using a variety of useful tools, Shopify can automatically create uniform terms, return policies, and privacy policies for your store.
These tools are available in Shopify Settings. Select the Checkout tab and scroll down to find the fields you need. 
Click the Create button and you're ready to start.
Shipping
Shipping rates for your Shopify dropshipping store should be transparent. We always recommend offering free shipping as it is the most convenient choice. It can be confusing when shipping costs vary by country, so all you need to do is include shipping costs in your product price and get free shipping.
If you want to sell a t-shirt for $20, raise the price to $25 and include free shipping. Advertise your Shopify Dropshipping store to attract customers using the phrase "Free Shipping!"
You can set up free shipping for your store by going to the Shipping tab in your Shopify settings.
In the Other Regions section, change all domestic shipping regions to Free International Shipping. All ready. After selecting a tariff: Free shipping price
4. Open the Shopify dropshipping store
Now that you have everything you need, you can open a Shopify dropshipping store.
Go to the Sales Channels page in your Shopify admin panel to start setting up your store. When you get there, select "Add Online Store".
After completing these steps, your online store will be running.
5. Improve your store layout
This section of the Shopify dropshipping guide discusses the value of design for your online business and points out some important factors to consider. The design of your Shopify dropshipping store is so important because this is how you present your business and brand.
Just like physical stores need attractive window displays, online stores need to be visually appealing. First impressions matter and it is the user's first impression of your company.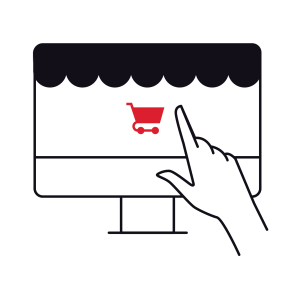 Don't forget to check out these simple tips to create an online store that can increase your sales.
Two key factors to consider when designing a Shopify dropshipping store are your theme and your logo.
Choose a Shopify theme
There are both free and expensive alternatives. Browse the store and choose the perfect theme for your budget. If you are just starting out, we recommend using the free themes.
We understand that deciding which theme to use can be tricky. We created this post to make it easy for you to choose the best solution for your Shopify dropshipping store. It covers things to consider when choosing a theme, information about free Shopify themes, how to modify Shopify themes, and more.
Logo Design for Business
A Shopify dropshipping store logo helps customers remember you. Spend some time thinking about what your logo should look like and how it will fit into the overall design of your store.
Creating a logo can seem complicated and time consuming. But with Shopify's free online logo maker, you can create the perfect logo in seconds. Experiment with fonts, colors, icons, and layouts to create the perfect logo for your brand. Once you've decided on a theme and logo, your store will begin to take shape.
6. Use DSer to ship to Shopify
To start making money, you need to start adding products to your Shopify dropshipping business after your design is complete.
One of the best Shopify tools for ecommerce business owners who want to bring dropshipping products into their stores is the DSers app, which you need to install to add dropshipping-able products. Because AliExpress and DSers are seamlessly connected, you can pick up and deliver products right away.
After uploading your DSer, you need to add categories to your Shopify store. These categories should be named according to the type of product you are selling.
If you're starting an online t-shirt store, name this category "T-shirts."
If interested, create your own logo using graphic design software such as Photoshop or Canva. High-quality graphic design can also be outsourced for a reasonable price from freelance exchanges like Upwork or Fiverr.
Once you decide on a theme and logo, your store begins to take shape. After installing the
DSers, you can use the app to browse AliExpress products you are thinking of selling.
Any product you want to sell can be imported into your Shopify dropshipping store by clicking the Import button.
7. Make your first transaction
It's time to start monetizing your Shopify dropshipping store. Since just opening a store won't drive a lot of traffic, it's a good idea to use a marketing strategy to attract potential customers.
Take advantage of the many marketing opportunities available and do your research to determine the most effective way to drive customers to your Shopify dropshipping store.
If you think you can be successful with Facebook ads, try a few campaigns. Come on, try TikTok or Instagram if you like. The most important step is to continue testing. The most effective marketing strategy for your ecommerce business will soon become clear.
It's up to you
Your very own Shopify dropshipping store is now yours. congratulations!
We've covered a lot in this Shopify dropshipping guide, but you'll learn a lot more as you work and manage your own company. It's time to start selling and making money in your online store because there is no limit to how much you can earn from an online store. Dropshipping online is no longer difficult thanks to Shopify and other third-party platforms.